"This course has given me the appropriate tools and skills to transition from a caseload to a workload approach. I feel confident in collecting and analyzing my data, problem solving solutions, and approaching administration for my needs using my data.


Thanks Jayson!"


-Ashley Hartley, OTR/L




Watch this video to learn how this workshop is different from other professional development courses.
Do you prefer a more structured learning environment designed to keep you accountable?
Our eight-week academy version of this workshop, which gives you weekly assignments, direct access to the instructor, and a cohort of students working through the course at the same pace as you.


Why I made the shift!
There are only so many hours in a day, days in a week, & weeks in a school year.
Back in 2013, I took a new job as a school-based OT. I was the sole OTR/L working with an OTA and a combined caseload of over 100 kids at 12 school sites. 
We quickly realized that splitting the caseload in half by school sites was simply not going to work. 
So rather than splitting the caseload 50-50, I handled IEP meetings, evaluations, and students with consultations, and the OTA provided therapy to most of the students who received more regular services. 
And that worked... until it didn't. 


Despite our caseloads holding steady, our workload was slowly increasing. At the time, we had no idea because we were not tracking it. 
When we finally came to the realization that we needed to track what we were doing with our time, we realized why everything seemed so impossible to complete. 
We were each trying to fit 45+ hours of work into a 40-hour workweek.
Since then, I have made a point to measure my time. Not just by billing therapy minutes, but by periodically documenting exactly where my time is going. 
Over the years, making the shift from a caseload model to a workload approach has helped me to become more efficient with my time, advocate for OT services students need, and get some much-needed support from my administrators.
And yes, that includes motivating administrators to hire in-house and contracted therapists to support me and the OT department. 
Over time, moving to a workload approach has helped me to advocate for myself, the OT department, and the kids I serve. 
I now would like to help you make the shift to a workload approach so you, too, can advocate for your time and the support you need to complete your role effectively as a school-based OT practitioner.

⭐️⭐️⭐️⭐️⭐️
"This course helped our OT department gather data that our administrators could not deny!"
— School-based OT practitioner

Making the Shift!
Because caseloads only tell a part of the story.
Caseloads do not account for the many variables we address as school-based OT practitioners. 
For example, some evaluations take longer than others. Likewise, IEP meetings and therapy sessions require varying amounts of time. 


Research has shown the benefits of moving toward a workload approach. Moving to a workload approach not only can improve student outcomes but using this approach can also prevent employee burnout and turnover. 


Complete this workshop and earn .4 CEUs (4 hours) toward your state and national professional development requirements.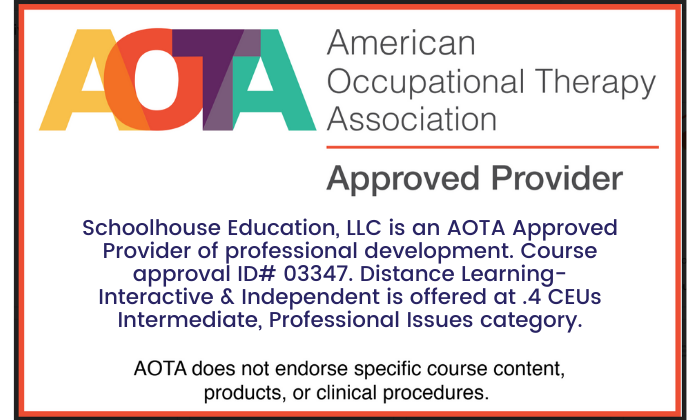 So what is the promise of this workshop?
Earn 4 hours of professional development and harness the knowledge and tools you need to show your administrators the valuable benefits of moving from a caseload model to a workload approach. 
That includes developing a picture of your workload based on your current caseload, completing and analyzing a two-week time study, and drafting a document to share with your administrators.

Here are the exact objectives we will cover:
1. Identify how a caseload model differs from a workload model.
2. Recall research related to occupational therapy and using a workload approach. 


3. Appraise your current caseload and workload and distinguish how it is impacting your practice.
4. Create a plan for moving to a workload approach and maintaining it.
Who is this course for?
This course is designed for School-based OT practitioners and other related service providers who are looking to help their school(s) move toward an effective workload approach in order to save time and provide more ethical and effective therapy. 
This is an intermediate-level course and is for therapists who feel they could be successful in the schools if they had just a little more time and a bit of administrative support. No prerequisites are required. 


Here's how we will make the shift
This is not a theory-heavy course. It is a workshop that will allow you to take action & make changes this school year! 
Using pre-recorded videos with slides, accessible online tools, and hands-on assignments designed to facilitate your learning experience, I will support you in moving to a workload model at your school sites. 
Part 1: Where we are today
It's a caseload world and we are all just living it.
It doesn't have to be that way, though. In the first part of the course, we will define how a caseload differs from a workload, both in theory and in practice. I will show you real-life examples of various caseloads and workloads so you can better explain the differences to your OT team and supervisors. 


I will also share the research with you related to why we should be making the shift now! Our well-being and our students' outcomes depend on us making the shift. 


(50 minutes of lessons + 15 minutes of assignments)
Part 2: Planning & Taking Action
In part 2, it is time to take action. We are going to complete four specific action steps so you have a true understanding of your workload and even your teams' workload. Don't worry, I will help you with getting them on board with this, even if they are not all OTPs. 
By the end of Part 2, you will have a detailed analysis of how you spend your time at work to share with your administrator. You will also have the knowledge and tools to implement the shift 


(130 minutes of lessons + 30 minutes of assignments)
Part 3: Sticking with it!
Unfortunately, if you don't continue to track your workload, it will get out of hand. That is why in part 3 I will provide you with the knowledge and tools to prevent you from moving back into a caseload model. 
Yes, it will take a little upkeep every year. But with every year, your workload will become more clear and your administrators will learn to appreciate what you have done for the OT department, if not the entire special education department. 


(15 minutes of lessons + 10 minutes of assignments)


Full Workshop Curriculum
Videos & productive assignments designed to guide you all the way through to the end.
More than a professional development course!

Step by step, this course will help you make the shift to a workload model.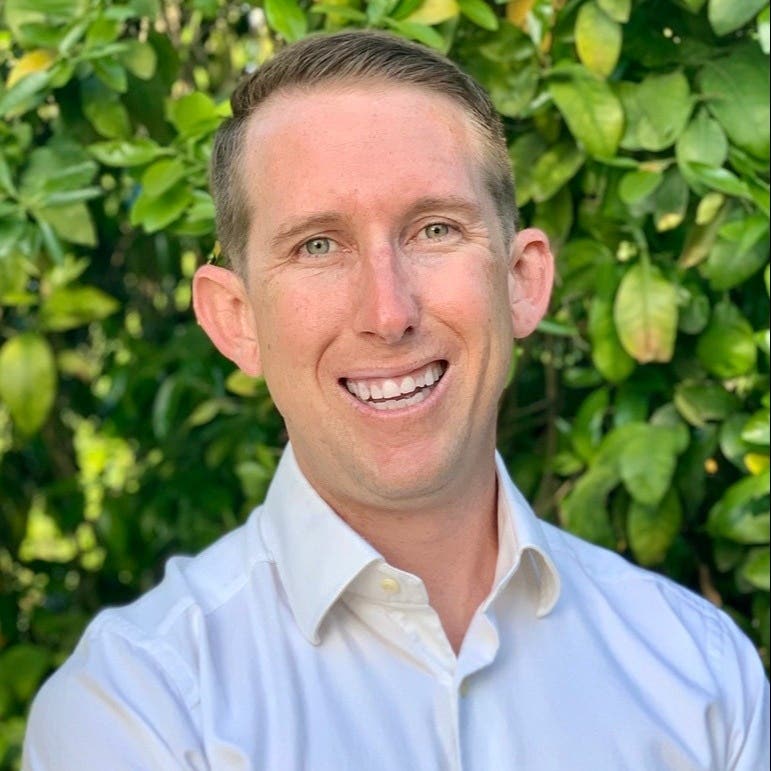 Your Instructor
Jayson Davies, MA, OTR/L

Jayson Davies has been a School-Based Occupational Therapist for over 9 years in Southern California. He created the OT Schoolhouse website and podcast in 2017 as a way to support occupational therapists transitioning to or currently working in educational systems. Jayson believes that OT practitioners have so much to offer the students and staff in the schools we serve. He would like to see every School-Based OT practitioner supporting all students using a workload model and tiered interventions. In addition to proving support to other therapists, Jayson also advises occupational therapy students on their thesis projects at the university level. Jayson is the owner of Schoolhouse Education, LLC and OTSchoolhouse.com.

Disclaimers & Acknowledgments
Speaker Disclosures: 
Presenter Disclosure: The speaker, Jayson Davies is the owner of Schoolhouse Education, LLC
Sponsor Disclosure: This Course is presented by Schoolhouse Education, LLC
Content Disclosure: This learning event does not focus exclusively on any specific product or service. 
Course Completion Requirements
Dates and times for each completed lesson will be recorded and documented.
Passing an online exam and completing a course evaluation will be required to earn continuing education credit. Learners must also complete the required assignments designed to help you move toward your goal. 
To participate in the course, complete the exam and course evaluation, and earn continuing education credit, you must be the original purchaser of the course. Participants must complete the entire course; partial credit is not allowed.
Schoolhouse Education, LLC is committed to ensuring accessibility to the widest possible audience. We are continually improving the user experience for everyone. If you have questions, requests, or would like to report an accessibility-related issue, please email [email protected]. We will review your request and respond in a timely manner.
Terms and Conditions
Schoolhouse Education, LLC will keep a record of your CE courses. This includes all complete, incomplete, and pending coursework. When applicable, transcript services may include reporting to professional associations and/or state licensure boards. While the Schoolhouse Education, LLC will make all reasonable efforts to offer CE credit for its courses, it is not responsible for state or national, or regulatory current policies or changes in CE requirements that may make courses ineligible for CE credits.
Participant Agreement
By registering for, or attending any event or activity associated with the Making the Shift: Caseload to Workload Workshop, I agree to the following:
Professional Development/Information Disclaimer
The Making the Shift: Caseload to Workload Workshop is a virtual event for professional development, networking, and OT School house business purposes. The material presented is not intended to represent the only or the best methods appropriate for the occupational therapy and/or medical condition or professional development issues being discussed, but rather is intended to present the opinions of the presenters, which may be helpful to other health care professionals at arriving at their own conclusions and consequent application. Attendees participating in this professional development education program do so with full knowledge that they waive any claim they may have against the Making the Shift: Caseload to Workload Workshop, Schoolhouse Education, LLC, and OT School House and its staff or representatives for reliance on any information presented during these educational activities.
Waiver of Liability Agreement
I release the Making the Shift: Caseload to Workload Workshop, Schoolhouse Education, LLC, OT School House, and its staff, presenters, and any other individuals or entities associated with the Making the Shift: Caseload to Workload Workshop from any and all liability connected with my participation, as well as from any liability related to changes to the schedule, events or activities. I acknowledge and agree that I am participating on my own choice and assume all risk in connection thereof and that in the event that a need for emergency medical service arises, I authorize and consent to such services being provided at my own expense.
Cancelation & Refund Policy
In the event that Schoolhouse Education, LLC must cancel the event for any reason, participants will be offered the choice of a full refund or, when applicable, a credit toward the rescheduled event.
Participants who have not completed the course may cancel and receive a full refund within 30-days of registering for any reason.